The Water Well (when finished) allows you to build an irrigation system for your farm.
Once you're done building the Water Well, you will be able to place Sprinklers on plots and reduce crop growth time by 25%!
With an irrigation system you can also plant water crops such as Rice, Cranberries and Watercress. These crops require plenty of water and can only be planted on plots with Sprinklers installed.
Important note: Water crops include the 25% reduction in growth time.
You can find the Water Well in the Buildings tab of the Ranch Shop. The Water Well is available at Level 20 and costs 25,000 coins. You can purchase only 1 Water Well for your farm.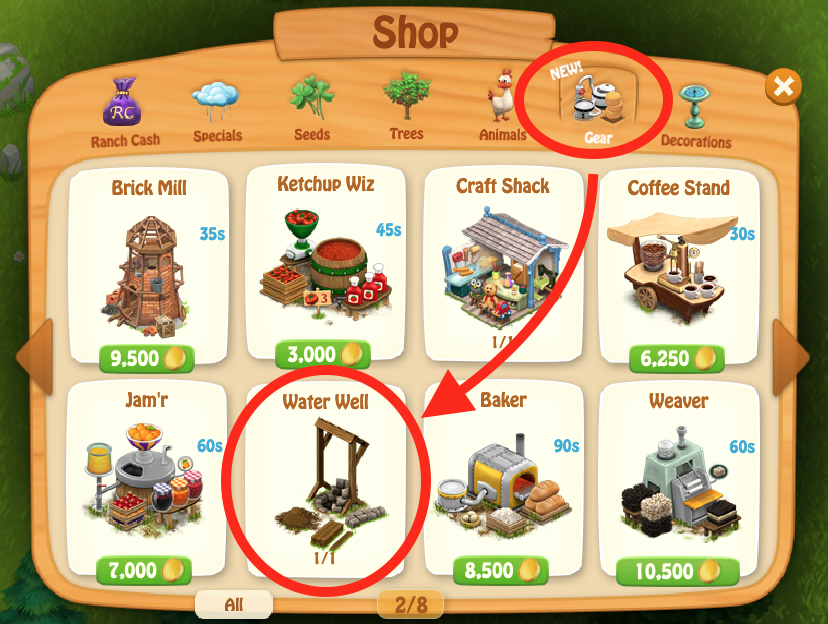 Place the Water Well on your farm and click on it.
Building Your Water Well
To finish building the Water Well, you will need to get 25 Stones, 8 Wood Beams, 15 Irrigation Pipes, and require help to install 1 Water Pump, and 1 Drilling Gear.
The Water Pump and Drilling Gear have an "Ask" button that allows you to ask for help. They come with the Water Well kit, so your friends and neighbors have to help you install them.
You can ask your friends for these construction materials and help (click "More" or "Ask" button respectively) or buy them using Ranch Cash.
Upgrading the Water Well
After building the Water Well, you can upgrade it. Upgrading your Water Well allows you to expand your farm's irrigation system and place more Sprinklers on more plots.
Click on the finished Water Well to see what materials you need to upgrade your Water Well.
The maximum number of plots you can irrigate is 1175 when you reach Level 10 for your Water Well.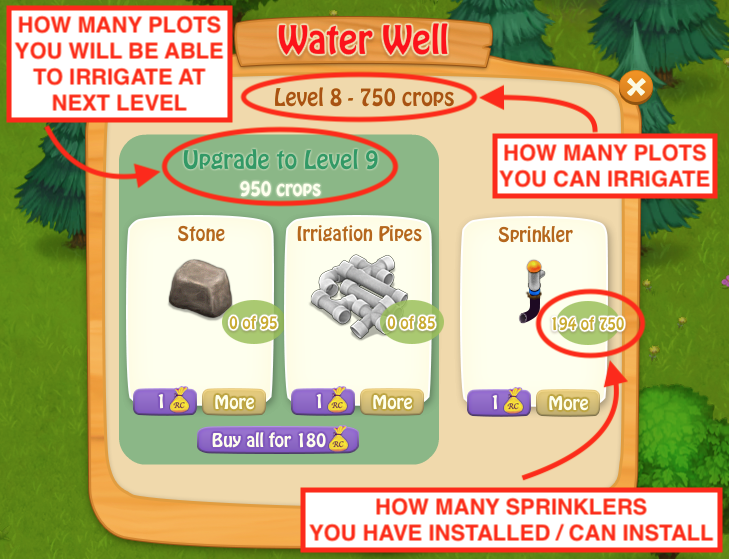 Getting More Sprinklers
To get more Sprinklers, you can buy them from Shop, or ask your friends for some by clicking the "More" button in your Water Well menu.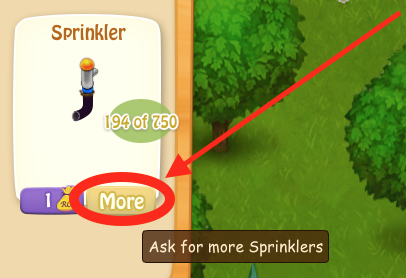 Installing Sprinklers
To install a Sprinkler and irrigate a plot on your farm, please go to the Gifts tab in the Barn & Warehouse menu and click the Use button below the Sprinkler.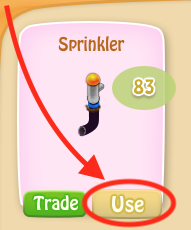 Next, click on a plot or crop to install irrigation on it.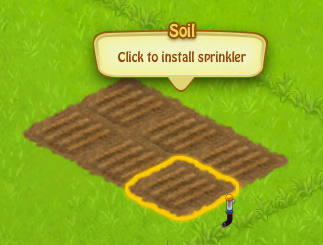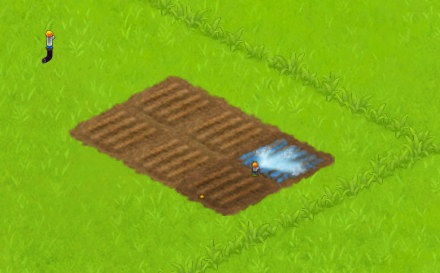 Important Note: when you delete a plot with a Sprinkler installed on it, the Sprinkler will go to your Gifts.