To remove a Neighbor, first go to your Neighbors bar.
Once you're there, hover for 1 second with the mouse cursor over the friend you want to remove and you'll notice an "X" appear in the top-right corner of their photo.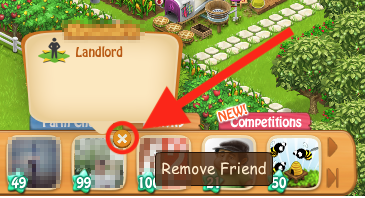 To remove the Neighbor, click on the "X", then hit "OK" on the confirmation dialogue that appears next.
How do I remove someone from my CLM Friends list?
To remove someone from your CLM Friends list, you have to unfriend them on Facebook.
This is because when you're friends on Facebook with someone who plays CLM, they're automatically added to your CLM friends list (to send gifts).