How do I add Neighbors / Friends?
Farming is A LOT more fun when you play it with friends!!! Wether playing casually and sharing farming strategies or compete against them in the Competitions, friends has lots of benefits.
Plus, the game is a social game, designed around cooperation, so you will achieve many tasks considerably faster when having many friends to gift you construction materials and other required items.
If your Facebook friends don't play CLM but you want to invite them to the game, you can do so through the "Invite Friends" button in the top-left part of the game window.

If you're looking for neighbors, please try our Game Page: https://www.facebook.com/CountryLifeMeadows or search dedicated Country Life Meadows groups and ask people to add you as a neighbor — you have to be Facebook friends first.
Facebook friends who play CLM automatically appear in your Friends list.
To add a Facebook friend who's playing CLM as your neighbor, please click the "Add Neighbor" button in your Neighbors bar.

If you want, you can also try our new in-game Farm Chat that's above your Friends bar, and ask people to add you as a neighbor.

The Farm Chat has several rooms depending on the language you're speaking, so if you're using one of the languages seen in the drop-down menu, you can switch to it.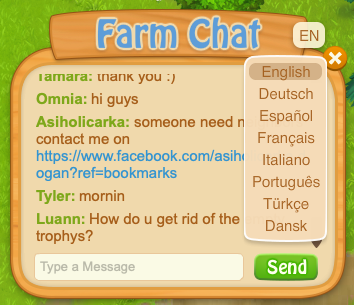 TIP: You can see your Neighbor stats at the top right of the game window when visiting their farms or by hovering over their icon in the Neighbors bar.
Tip: You can also see stats for Farm Chat members by hovering over their name.