The Swan Pin, or Double XP Pin, allows you to earn twice the XP you normally earn from your farm activities, for a period of 6 hours.
It's the perfect choice when needing a XP boost for levelling up or… other situations where you need to earn XP fast. 🙂
You can access the Swan Pin by clicking on your farm's name at the top-right > "Stats & Skills" tab, "Vouchers" sub-tab.
It works for:
collecting from Crops
collecting from Trees
collecting from Gear
collecting from Kitchen
collecting from Craft Shack
completing Orders
It DOES NOT work for:
collecting Ribbon rewards or any other rewards.
Cheap Train
normal Train
How do I activate the Swan Pin?
The Swan Pin is activated using 7 Purple Vouchers – 5 for each corner of the star, and 2 for the swan.
To activate it, click on the Use button 7 times (5 for the star, 2 for the swan), and each voucher will be added to the pin.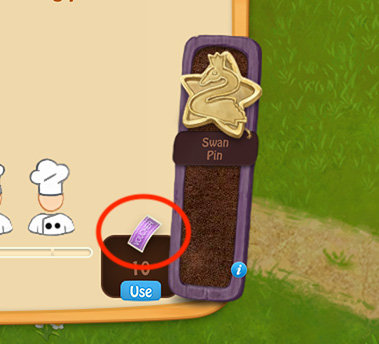 In case you're wondering how to get more Purple Vouchers, please CLICK HERE.