If your game is running slow or freezing, here's what might fix it:

Normally, the first thing you should do is reload the browser's page by tapping the F5 key (Windows) or Command+R (Mac).
If the issue persists, we suggest you close the other tabs in your browser and/or apps running in the background on your computer.
Clear your browser's cache. Here's how to do it: https://clear-my-cache.com/windows.html
Try a different browser. The recommended browsers are Firefox and Facebook Gameroom for Windows, and Firefox and Safari for Mac.
If you're still having issues, go to the game's Settings tab in the lower-right part of your screen (the hammer and screwdriver icon) and turn off some or all animations in the Game Settings tab.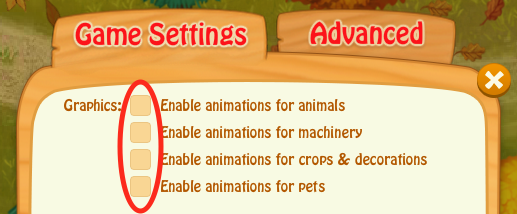 As a side note, if you have a huge farm, there's not much we can do to make the game run faster, beside suggesting a more powerful computer, if you want your farm loaded with all kind of things, that is. 🙂
Even if it is a 2D farming game, Country Life Meadows can develop into something very complex, and simply calculating where all your farm assets are require a strong processor (on some farms, we see over 80.000 objects the processor has to compute).