Daily Rewards are a good way to start your day in CLM with some free Coins, OPs, Pepper, Power, Fertilizer, Salt, or RC.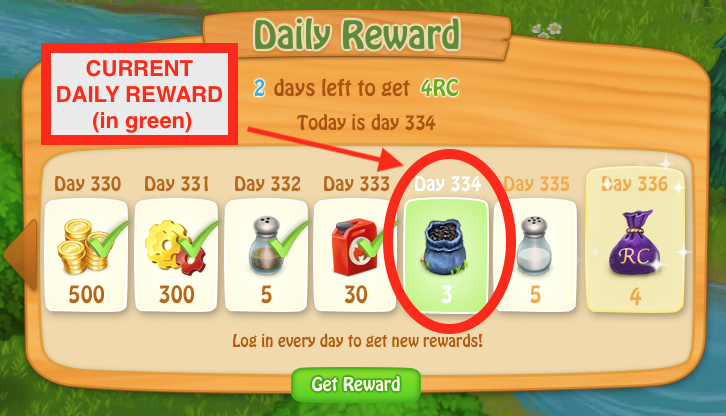 How Daily Rewards work
Your Daily Reward window should pop up automatically after the game fully loads. Here's how it works:
You can claim your Daily Reward every 14 hours.
Daily Rewards remain active (claimable) for 28 hours.
In other words, when 14 hours have passed since you claimed your previous Daily Reward, you have a time-window of 28 hours to claim your new Daily Reward — otherwise your progress will reset to Day 1.
Examples: if you claim your reward for Day 20 now, your reward for Day 21 will become active in 14 hours, and will remain active for another 28 hours — or 42 hours since you collected Day 20.
Or let's say you collect a daily reward at 9 AM on Monday. The next one will be active, or "live" from 11 PM (14 hours later) on Monday until 3 AM on Wednesday (which is a further 28 hours apart, or 42 hours since collecting the previous daily reward).
We have players who have reached over 400 days of consecutive Daily Rewards without any issues.
IMPORTANT NOTE: for the Daily Reward window to show after you load the game, it needs to see some sort of activity on your farm — such as harvesting a few crops or trees, or planting some crops. If you only visit the game to manage gifts, for example, the Daily Rewards window may not pop up. If the game doesn't see any changes in XP, your Daily Reward window may not automatically pop up — which means you have to get the Daily Rewards yourself like in the images below or your progress will reset to day 1.
Why did my Daily Rewards reset to Day 1?
Your Daily Rewards can reset to Day 1 if:
You haven't visited the game in more than 42 hours (as rewards are given every 14 hours and stay active for 28 hours)
You did briefly visit the game in the last 42 hours, but you only managed gifts, for example, and the Daily Rewards window didn't register any activity (such as harvesting a few trees)
How to check when Daily Rewards reset + previously collected & upcoming rewards
You can check how much time you have until your next Daily Reward, the prizes you've previously earned and the next ones waiting to be claimed.
To do that, please click on your level bar:

Then, in the window that opens, make sure you're on the tab "Next Level" and click on the button "Daily Reward" at the bottom left: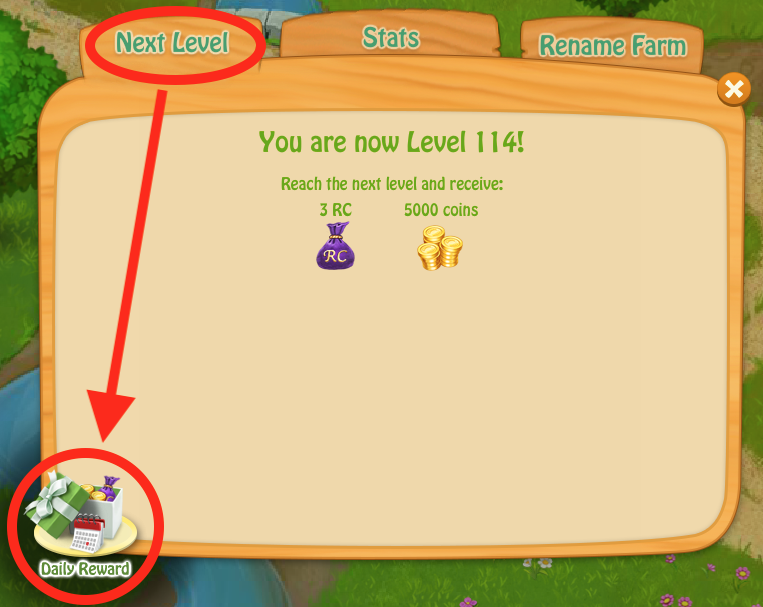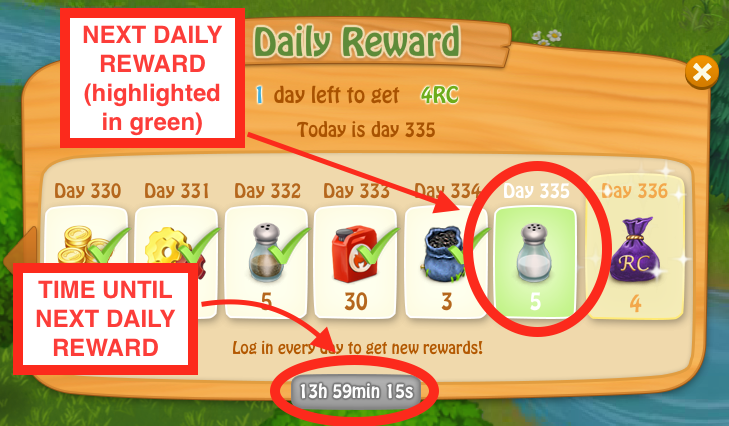 Can I pause my Daily Rewards?
Yes. In your Daily Reward pop-up window, click the "Pause counter" text at the top-right of the window then confirm by clicking "Yes".