The Winter Event 2022 appears as an icon at the top-right part of your game window, and is scheduled for 15 days.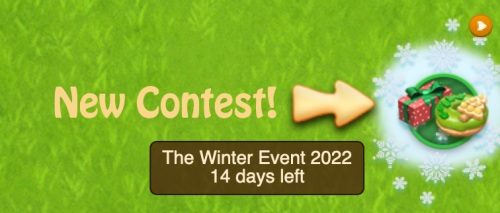 Click on the icon to open the Winter Event 2022 menu and see what you have to do.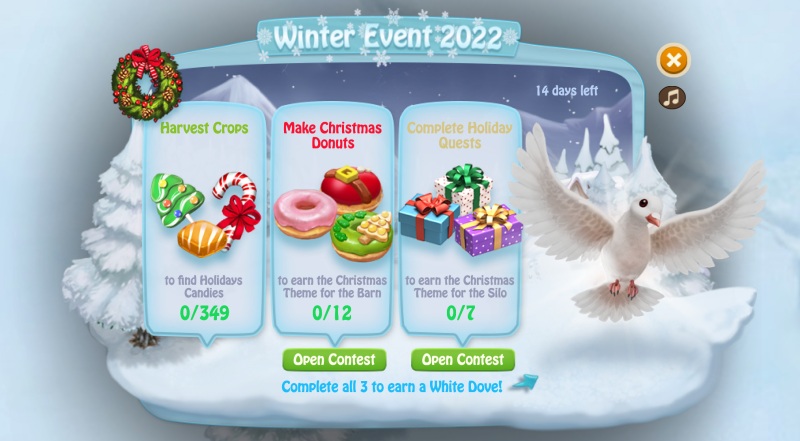 ---
What are the Prizes?
The big prize for the Winter Event 2022 is the White Dove, an eternal symbol of peace, new beginnings, purity, and love that transcends all cultures and traditions
Win it, and you can rent out your White Dove for weddings in our first co-op farming feature! Place your White Dove in a gorgeous Cinderella wedding carriage, and wait for nine other farmers to add theirs. Once the carriage is full, the Doves will be sent to the wedding. When released, your Dove will return right back to its Pigeon House on your farm, and you can rent it out again!
What do you get from the White Dove?
⚫ Coins and XP from the Wedding Rental
⚫ 1 x Organic Fertilizer 20 every 4 days (doves are not horses), when the dove is on your farm
OR
⚫ 1 x Organic Fertilizer 20 every 2 days if you also have the Pigeon from the Factories Area
You can have both a White Dove and the Pigeon from the Factories Area (Furniture Factory) in the same Pigeon House.
To earn the White Dove, you have to complete all 3 Winter Events.
Additional prizes for the Winter Contest 2022
Christmas Theme for the new Gambrel Barn if you finish the Make Christmas Donuts part of the event. The Gambrel Barn is available in your Shop > Gear tab.
Christmas theme for the new Tower Silo if you complete the Holiday Quests part of the event. The Tower Silo is also available in your Shop > Gear tab.
OPs — you can trade the Holidays Candies you find in the Harvest Crops part of the event for OPs after the Winter Contest ends.
Surprise Gifts you can claim after you complete each Winter Daily Quest (with multiple parts).
So, here's what you have to do to finish each of the three parts 🙂
IMPORTANT: All parts have to be completed in your main farm — not Factories Area or Bellflower Meadow.
---
1. Harvest Crops
Harvest crops daily to and find Holiday Candies that you can trade for OP after the contest ends.
A minimum of 349 Holiday Candies are required to finish the 1st part of the Winter Event 2022.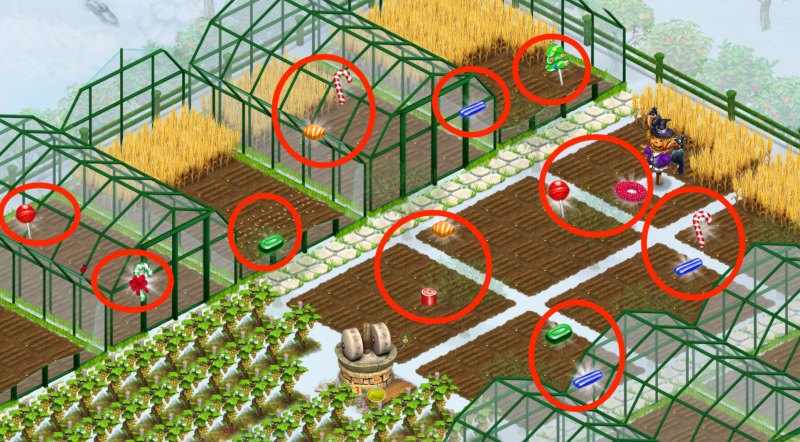 Using Rain to instantly grow crops gives extra Holiday Candies.
The contest is created so that a normal player who plants their plots in the morning, for example, and harvests them in the evening, can find all Holidays Candies if they play daily during the contest.
We reward additional daily harvests with some extra Holidays Candies, as mentioned before, the use of Rain, regardless of how many times a player harvests per day.
After your "day" resets you will get more Holidays Candies on your harvest. One "day" is 20 hours since you collected your first Holidays Candies the previous day — so it resets based on your own schedule.
---
2. Make Christmas Donuts
Make Christmas Donuts in your Farm Kitchen and discover all 12 types from this collection!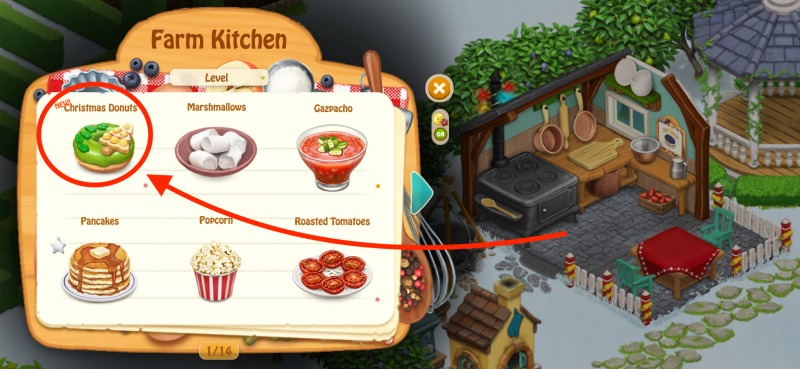 The Christmas Donuts recipe requires 1 Flour, 1 Milk, 1 Egg, 1 Honey, and 1 Donuts Festive Ingredient.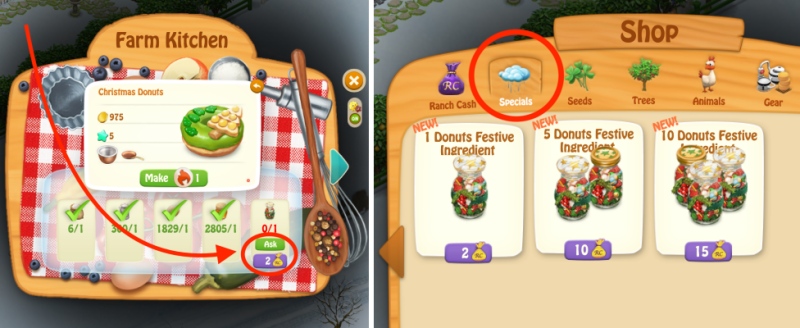 You can either ask your friends for the Donuts Festive Ingredient by clicking the blue "Ask" button or you can get 1 Ingredient for 2 RC. Alternatively, you can get packages of 5 or 10 Donuts Festive Ingredients in the Shop > Specials tab.
IMPORTANT: As with all previous contests (stockings, cocktails, cookies, candles, sweaters etc), you won't discover a new Christmas Donuts type with each new recipe you make.
Christmas Donuts types are "discoverable" when you reach certain thresholds (make a certain amount). So, keep on making them until you find all 12 unique types.
Complete the collection to win a Christmas Theme for the new Gambrel Barn (available in your Shop > Gear tab).
---
3. Complete Holiday Quests
After you complete each Winter Daily Quest (with multiple parts), you can claim your gift.
As usual, quests appear at the top-left of your screen, and this is the first subquest of the first "day of quests"

Each of the 7 "days" of quests is made up of 3-4 smaller quests (usually in the well-known format: plant, harvest, collect, make). These subquests are numbered if you open up the quest and look at the top-right, under the quest's description.
As mentioned above, finish the 3-4 subquests to claim your daily gift 🙂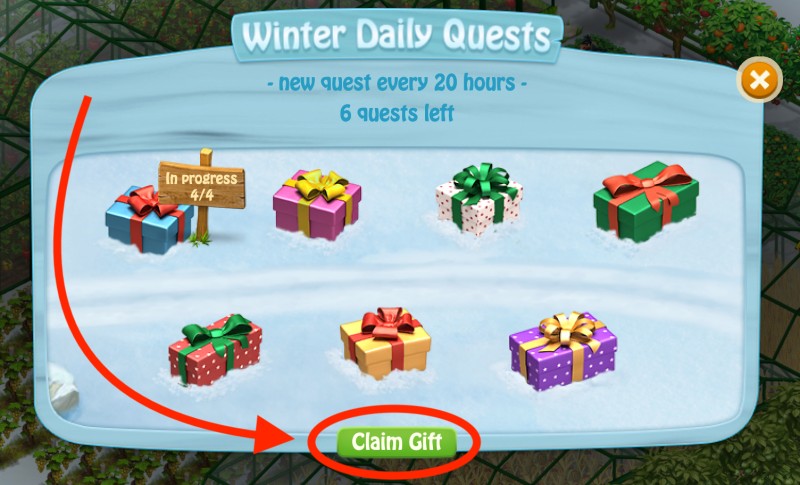 You get a new "day of quests" 20 hours after starting your previous daily quests. You can check when your next "day of quests" will begin by opening the Winter Daily Quests menu.