The Easter Event 2023 is scheduled for 15 days and starts with a letter in your Mailbox.
Click to open the Mailbox in front of your farm and read the letter from Jerry from the Summer Camp asking you to trick the children into eating more veggies. Then, click the button at the bottom of the letter then place the Easter Event table in front of your farm to start the contest.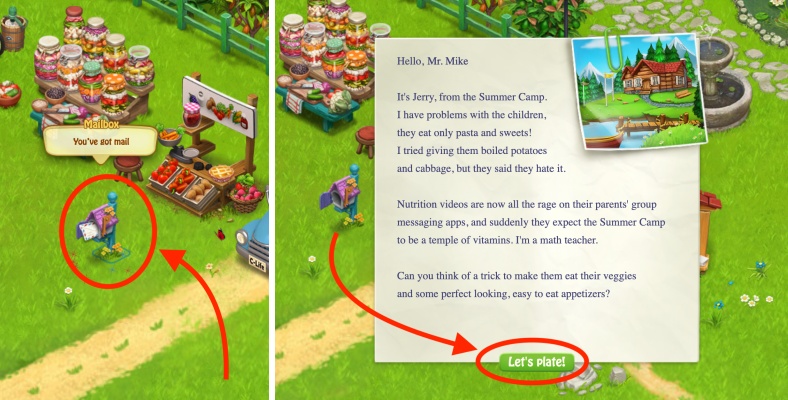 If you have other items (tables, lemonade stand etc) in front of your farm and don't have space for the Easter Event table, click the blue Cancel button and store the other items with the Add to Warehouse Tool — then click the Easter Event 2023 icon at the top-right of your game window to place the table.

After that, check what you have to do in order to earn the big prize by clicking the Easter Event icon at the top-right of your game.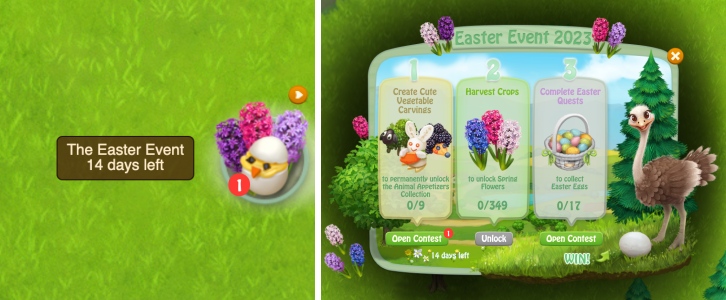 What are the Prizes?
Harvest crops daily to unlock 5 new vibrant Hyacinth varieties
Complete all 3 contests and earn the grand prize: a female Ostrich.
The Ostrich will sometimes chase Joe, if he is around.
you can use the giant Ostrich Egg to make an Ostrich Egg Carving with an intricate pattern, and more (work in progress)
You will be able to name your Ostrich with the Name Pet Tool
Other new stuff related to the Easter Event
new product for the Cheese Master – the delicious and a favorite of children: Cottage Cheese. We've also slightly updated the Cheese Machine and other cheeses images.
new crop! Daikon Radish – this type of radish is great for vegetable carvings. It counts towards the Radish Achievement. You will unlock it in your first day of harvesting crops, more info below, in section 2.
We may update this article with more details and also based on your feedback and questions, so if you have questions related to the Event, please check back to this article.
What do I have to do?
All 3 contests below have to be completed in main farm, not Bellflower Meadow. What you collect from the Factories Area will count towards the quests.
1. Create Vegetables Carvings
Create Cute Vegetable Carvings in your Farm Kitchen and permanently unlock all 9 recipes and the Animal Appetizers Collection!
Animal Appetizers collection. This contest is hard, but you get a Collection you can make all year round, and we hope the gifts from the link in our last post will help you complete it.
We listened to your suggestions and we made another collection available all year round, with a counter, so you know when the next appetizer will be unlocked.
How it works: for example, if you make 8 of the first appetizer, the Ladybug Crackers, the 8th appetizer will be added to the table (it is considered you practiced making it until you created a perfect looking one). This will unlock the next appetizer, the Giraffes.
The last ingredient for the Animal Carvings collection can be unlocked at level 85 (Chocolate Hazelnut Spread). In order for farmers who are level 26 or higher to complete the Event, we have temporarily lowered the ingredients levels to level 26. After the Event ends, the ingredients will revert to their initial level.
When the Easter Event ends, whatever Gear, Trees and Crops you purchased that are normally available at a level higher than your current one will be removed from your farm and you will get your Coins back through a pop-up window notifying you of this.
If you are at a lower level and you completed the Collection, you will keep it in your Collections tab, and you will be able to make the individual appetizer plates for the level you are at. They give really nice profit and XP. Once you get to level 85, you will be able to do the Special Order from the Summer Camp, that gives a really nice reward.
Finishing the Animal Appetizers contest once is enough for it to count for the Easter Contest, to make the recipes after the event ends all year round, and to get the collection in your Achievements after the event ends. If you restart it a second time it's up to you, but the first time will count, so don't worry. Also, the table will show as full, too, if you finish it.

Now, let's make these recipes in the Farm Kitchen! You can check the required amount of each recipe if you hover with your mouse cursor over it.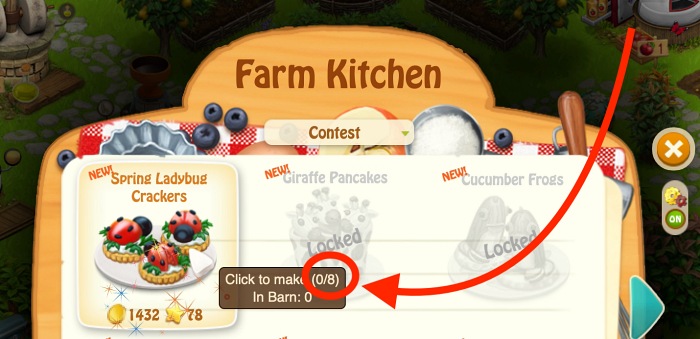 To make 1 Vegetable Carving, you will need Carving Templates.
You can either ask your friends for Carving Templates by clicking the "Ask" button when you run out, or you can click the 2 RC button under it, or you can get bundles of pickle recipe cards from the Shop > Specials tab.

2. Harvest Crops and Collect Easter Candies
Harvest crops and collect Easter Candies to unlock 5 new vibrant Hyacinth varieties. They count towards the Spring Flowers Achievement.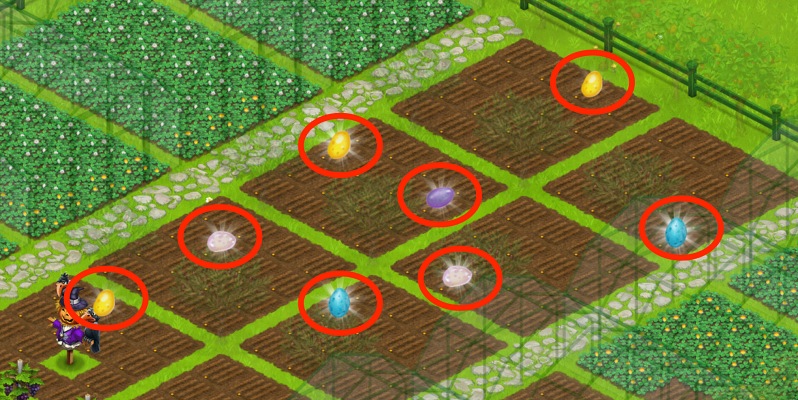 Hyacinths and Daikon Radish
Daikon Radish is unlocked immediately, in your first day of harvest, so you can make the appetizer recipes.
The Hyacinth Woodstock is unlocked way over the limit for the contest completion. Limit is 349, and Hyacinth Woodstock is found at 549. Purple is for harvesting royalty.
So, at certain progress intervals in the contest, the different Hyacinth colors are unlocked in your Shop and you can plant them.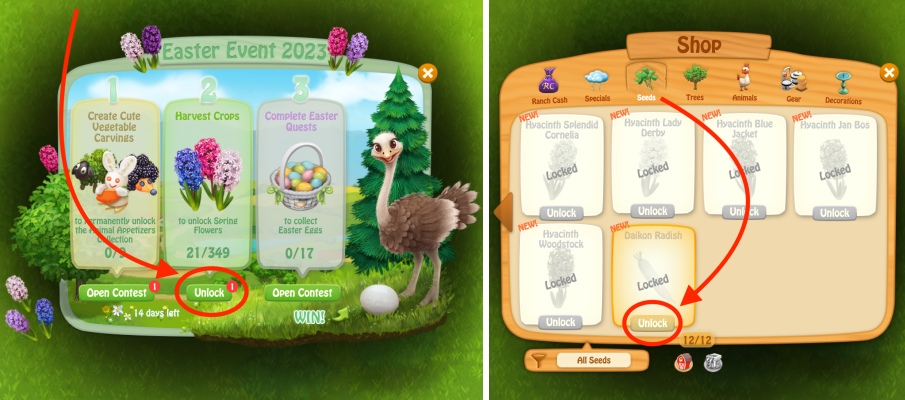 A minimum of 349 Easter Candies are required to finish this part of the Easter Event 2023.
Using Rain to instantly grow crops gives extra Easter Candies.
The contest is created so that a normal player who plants their plots in the morning, for example, and harvests them in the evening, can find all Easter Candies if they play daily during contest.
We reward additional daily harvests with some extra Easter Candies and, as mentioned before, the use of Rain, regardless of how many times a player harvests per day.
When your "day" resets, you will get more Easter Candies on your next harvest. One "day" is 20 hours since you collected your first Easter Candies in the previous day — so it resets based on your own schedule.
Also, remember, the contest lasts for 15 days so don't panic :).
3. Complete Easter Quests
Complete Easter Daily Quests to collect Easter Eggs!

Each of the 7 "days" of quests is made up of 4 smaller quests (usually in the well-known format: plant, harvest, collect, make). These subquests are numbered if you open up the quest and look at the top-right, under the quest's description.
After you complete each Easter quest, 2 or 3 Easter Eggs will pop up AROUND your farm and you have to find and collect them using Joe — just as you would forage for mushrooms.
Click the green "Find Eggs 0/3" button, and start looking around your farm. When you spot an egg, guide Joe there to pick it up. Keep in mind they are not large eggs.
If you need help to find the Easter eggs, you can click the "Use Hint" button for the cost of 1 RC / hint. If you find the egg by yourself, 1 RC will be added to your RC total.

When you find the Eggs and click on them, they will be added to the Easter Eggs Hunt Contest popup.
Find the 2-3 eggs around your farm then check back to see when to expect your next day of quests to begin. You get a new "day of quests" 20 hours after starting your previous daily quests.
You have to find all 17 Easter Eggs to complete this part of the Easter Contest.
I haven't hired Joe / Don't have Joe
You need Joe in order to find the eggs in the Easter Eggs Hunt.
To hire Joe on your farm, you first have to complete your Orders Board and finish the quest where you have deliver some orders ("Earning A Reputation" quest).
Then you have to make Tyrone your neighbor — another quest will appear at the top-left.
After you complete these and reload your game, you will be able to hire Joe as well — this time you will get a notification at the right (where you the one that your train is ready) or you can check your mailbox directly. There you will have a letter from Joe saying he wants to work on your farm.