The Easter Event 2021 appears as an icon at the top-right part of your game window, and is scheduled for 12 days.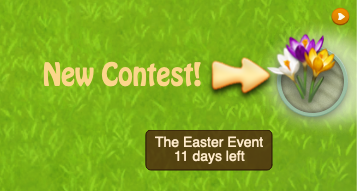 Click on the icon to open the Easter Event 2021 menu have to do in order to earn the big prize.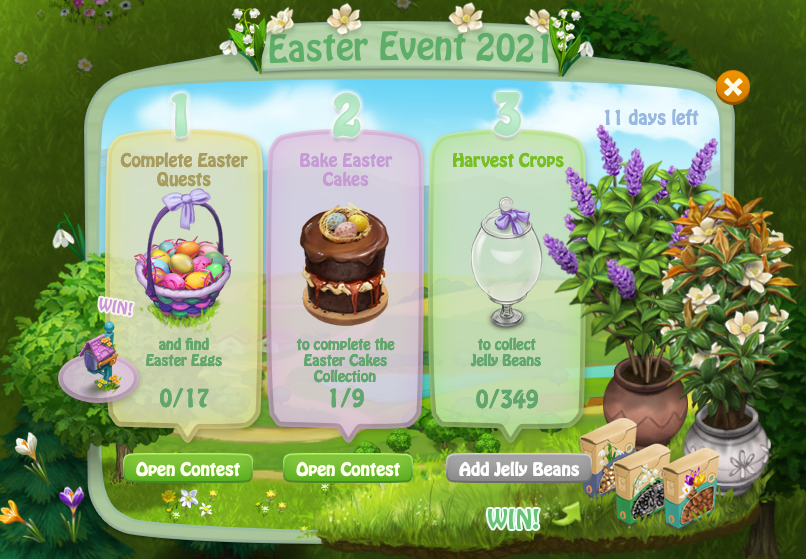 What's the Prize?
The big prize for the Easter 2021 Event is formed of three boxes with 20 seeds each of Snowdrops, Lily of the Valley, and Crocus, plus 20 shrubs each of Lilac and Magnolia Fairy Cream, which you can earn by completing all 3 parts of the contest.
All contests have to be completed in main farm, not Bellflower Meadow.
To start the contest, place the Easter Display Table in front of your farm.
If you have other decorations there, or a Lemonade Stand, you can store them with your Add to Warehouse Tool, then add the table.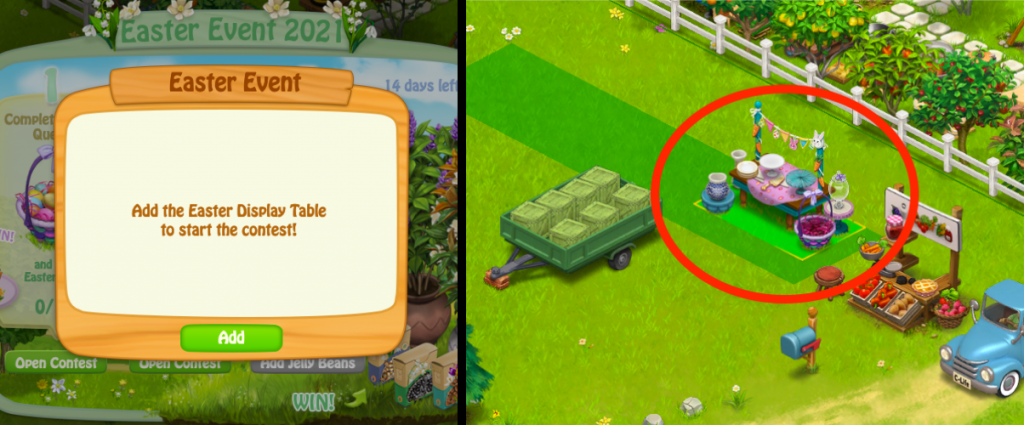 1. Complete Easter Quests
Find all 17 Easter Eggs and win an Early Spring Flowers Seeds Pack!
Each of the 7 "days" of quests is made up of 3-4 smaller quests (usually in the well-known format: plant, harvest, collect, make). These smaller quests are numbered if you open up the quest and look at the top-right, under the quest's description.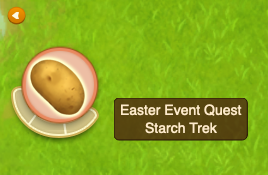 After you complete a day of quests, the Easter Eggs Hunt opens and prompts you to find eggs. A few eggs pop up around your farm and you have to find and collect them with Joe — just as you would forage for mushrooms.
Click the green "Find Eggs 0/3" button, and start looking around your farm. When you spot an egg, guide Joe there to pick it up.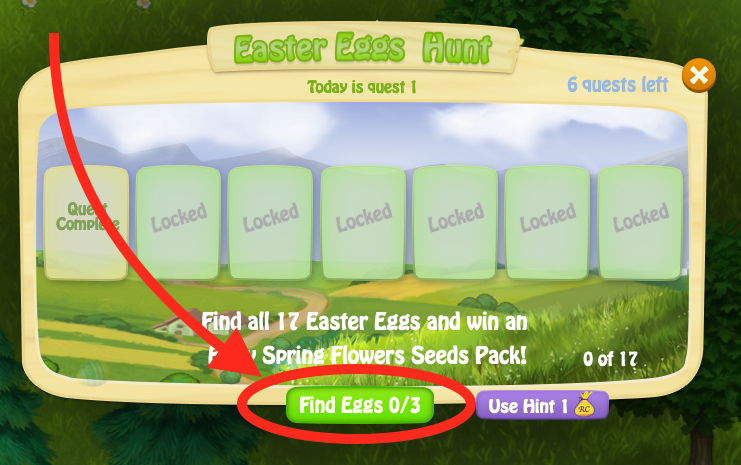 If you need help to find the Easter eggs, you can click the "Use Hint" button for the cost of 1 RC / hint.

If you find the egg by yourself, 1 RC will be added to your RC total.
To get a better idea of what to look for and where, here's how the eggs look around your farm. They are not large eggs.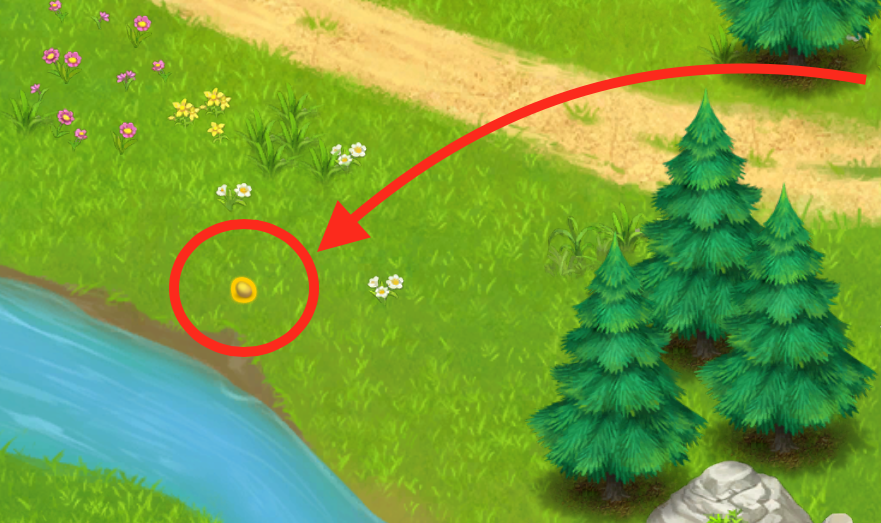 After you find an egg, click the "Find Eggs" button again until you find all the eggs for the day. Then, check back to see when to expect your next day of quests to begin.
You get a new "day of quests" 20 hours after starting your previous daily quests.
I haven't hired Joe / Don't have Joe
You need Joe in order to find the eggs in the Easter Eggs Hunt.
To hire Joe on your farm, you first have to complete your Orders Board and finish the quest where you have deliver some orders ("Earning A Reputation" quest).
Then you have to make Tyrone your neighbor — another quest will appear at the top-left.
After you complete these and reload your game, you will be able to hire Joe as well — this time you will get a notification at the right (where you the one that your train is ready) or you can check your mailbox directly. There you will have a letter from Joe saying he wants to work on your farm.
2. Bake Easter Cakes
Discover all 9 Easter Cake types by baking them in your Farm Kitchen.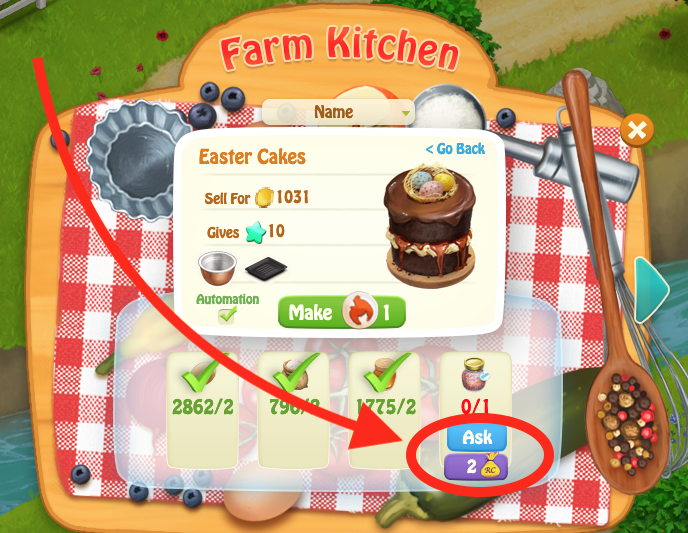 The recipe requires Candy Sprinkles Jars 2021. You can either ask your friends for them by clicking the blue "Ask" button when you run out, or you can get them from the Shop > OPs tab.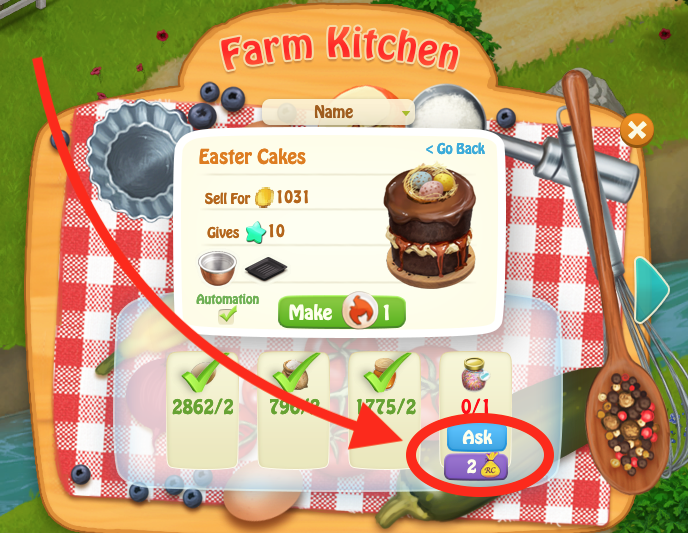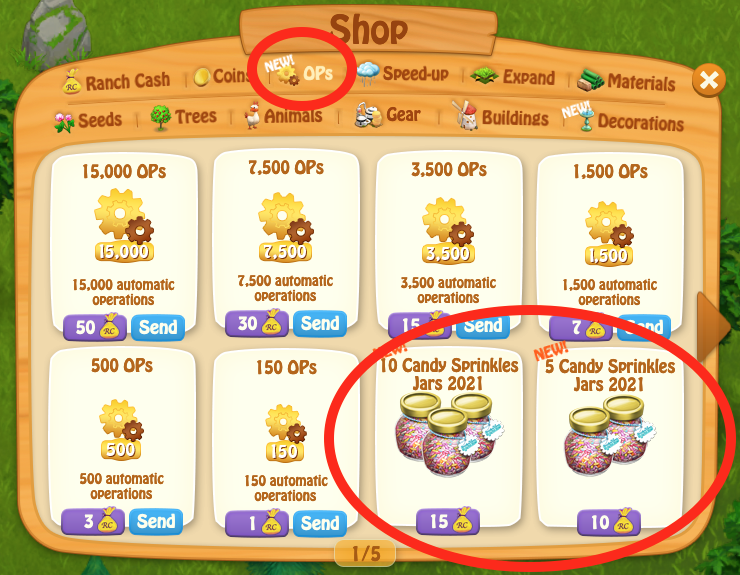 IMPORTANT: As with all previous contests (stockings, cookies, sweaters etc), you won't discover a new cake type with each new one you make. They are "discoverable" at certain thresholds So, keep on baking until you find all 9 cake types.
3. Harvest Crops
Harvest crops daily and find Jelly Beans!
A minimum of 349 Jelly Beans are required to finish this part of the Easter Event 2021.
Using Rain to instantly grow crops gives extra Jelly Beans.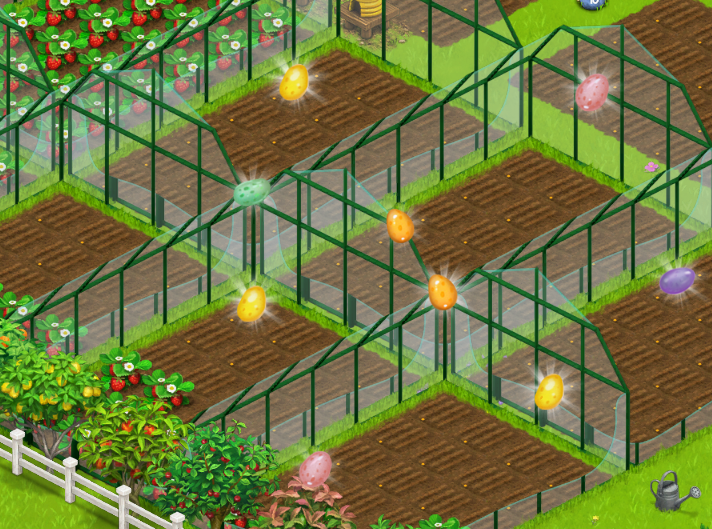 The contest is created so that a normal player who plants their plots in the morning, for example, and harvests them in the evening, can find all Jelly Beans if they play daily during contest.
We reward additional daily harvests with some extra Jelly Beans and, as mentioned before, the use of Rain, regardless of how many times a player harvests per day.
When your "day" resets, you will get more Jelly Beans on your next harvest. One "day" is 20 hours since you previously collected your first Jelly Bean in the previous day — so it resets based on your own schedule.